Post by Shane Andrews on Nov 20, 2009 23:13:27 GMT -6
The scene begins with CWE GM, Shane Andrews, in the ring, behind a podium.
A large group of people has gathered in the stands in front of him.
News cameras, press, wrestlers and fans alike.
Shane stands at the podium, with his trademark smile on his face.
It was at this time, he begins to speak...
"Ladies and gentlemen... good evening.
Tonight, I'd like to announce the 'official' return of Cyber Wrestling Entertainment.
These past few weeks, I have been busy, behind the scenes...
getting things ready for the start of our third season.
Hopefully, all these preparations will make this season of CWE the biggest it's ever been.
Time will tell on that..."
With this return, there are a few things I do need to address moving forward.
First and foremost, I'm here to announce CWE's first show of the season.
Coming in less than two weeks, Sunday, December 6, 2009...
CWE will kick off this third season with it's first PPV..."
Shane pauses, as the CWE-tron flickers to life above the stage.
On the tron, this logo appears: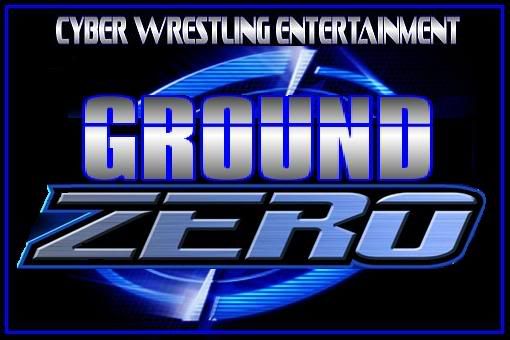 CWE: Ground Zero!
Shane smiles and continues...
"A fitting name for a fresh start to CWE.
Now, at Ground Zero... our first titles will be on the line.
One will be the reinstatement of the CWE U.S. Championship...
and this match will be a battle royal match.
Who will be in this match?
More on that in a minute.
Secondly, the reinstatement of the CWE Hardcore Championship.
This match will be held under 'Ladder match' rules.
As with the U.S. Championship match, this Hardcore match will be decided by the wrestlers themselves.
A 'Pick your Poison' option has been declared for every wrestler on the roster.
You want a shot at one of these titles?
All you have to do is... 'pick your poison'...
come out here, and decide for yourself where your path leads.
As for our Divas... a title will be up for grabs for you, as well.
I have made the decision to bring in an all-new Divas Championship.
Again, you want a shot at this title, ladies...
all you have to do is make yourselves known."
Shane pauses for effect... as the next announcement will be a big one...
smiling a wide grin, he continues...
"Lastly... and this is a big one, everyone...
I've decided to reinstate the biggest prize in this business...
the CWE World Championship.
After much thought about this issue...
I've made the 'official' decision...
to reinstate Osiris as our CWE World Champion...
seeing as he was the World Champion when last season ended.
It only seemed fair to give him a chance to defend, what he never got a chance to.
And speaking of defending the CWE World Championship...
with his first defense... at CWE: Ground Zero...
he will face a man he knows very well...
and a man that knows that Championship very well himself.
For our Main Event at CWE: Ground Zero...
It will be, with the title on the line...
CWE World Champion
Osiris
vs.
HADES!
Now, gentlemen... however you want to do go about this match...
it's all up to the two of you.
But, your dedication to CWE has given you the first opportunity,
to fight for the biggest prize CWE has to offer.
I have no doubt the two of you will provide us with a classic."
Shane continues smiling, as he continues one last time.
"With that being said, this will conclude tonight's press conference.
Thank you all for coming and here's to a bright future for CWE and it's fans."