Post by Shane Andrews on Jun 15, 2010 0:47:27 GMT -6
The scene begins, as a long white limo pulls into the back lot of CWE Arena.
The limo stops, and the driver gets out, to open the back door, for whoever was inside.
The driver opens the door... and who should climb out?
The one and only....
Shane Andrews
!
Announcer: "Why was he here?
Wasn't he fired months ago?
There has to be a reason he is here tonight..."
Shane Andrews pauses, as he is seemed to be talking
to someone else, who was riding in the car with him.
He reaches in with his right hand... and a female hand takes his.
The woman climbs out of the car...
Announcer: "WHAT?!? ... It's
Sarina Skye
!!!
Weeks ago... SHE was fired too!!!
This is definately an interesting turn of events...
WHY ARE THEY HERE?!?"
The two share a smiling glance towards each other,
and they walk arm in arm into the arena.
==============================================
Sometime later...
==============================================
The arena lights go dim, as familiar music begins to play....
"Here comes the Money... Here comes the Money!"
Returning to the CWE stage... was Shane Andrews.
And he wasn't alone, Sarina was still arm in arm with him.
Again, they share a smile together, and walk towards the ring.
They get to the ring, and as a gentleman would...
Shane hold the ropes for Sarina, as she climbs into the ring.
He follows her, and pulls a mic from his coat pocket.
Standing center ring, he begins to speak....
"Man, it does feel good to be back in a CWE ring again!"
Shane pauses, smiles, then continues...
"Now, many of you might be wondering... why am I here?
Wasn't I fired a few months back?
YES... yes, I was!
But, things have changed... and things WILL change...
that is why I'm here tonight!"
Shane nods his head, and continues...
"Since I left, CWE has undergone quite a change...
all by the hands of one Maxwell Dupree...
We had 'The Society' come... cause havoc on a weekly basis...
then, gone again, in a flash...
We had this 'messenger' fellow walking around, with threats
of blood and violence, anytime that 'Karnage' would show up.
That lasted a while... then gone in a flash, just like 'The Society'.
There has been other things witnessed, as well...
but, I want to get to the business at hand."
Shane smiles again, and contiunes...
"And that is simply this...
change IS coming to CWE once again!
I've made a sizeable 'donation' to the company...
Everyone's got a price... and with just enough zero's...
I
bought
my way back into CWE!"
Shane smiles, and continues...
"In two weeks...
I bring to CWE a brand new program...
feast your eyes on the CWE-tron!"
SHane waves his arm, montioning to the stage.
The tron lights up, showing this logo: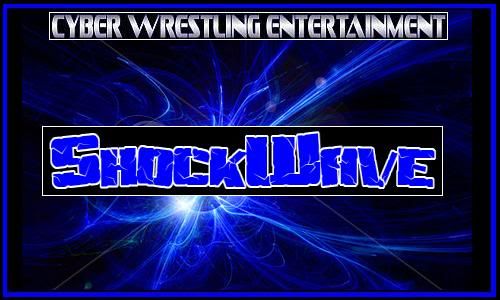 "Yes... CWE: ShockWave...
the newest thing to change the face of this company!
My 'superstars' will be at the very top of thier game...
blowing away anything Dupree can come up with on Rampage!
I've hand picked my roster...
via a recent 'draft' between myself, Dupree, and the CWE Board of Directors.
The best of the best CWE has to offer...
WILL be on ShockWave... I've seen to it, personally!"
Shane looks at Sarina, smiles, and continues...
"And yes... there WILL be diva action...
the hottest divas the CWE has to offer...
And this beautiful lady beside me, Ms. Sarina Skye...
WILL take them to the next level...
taking the reigns again as a G.M.!
Let's see what Angel can do about THAT!
Nothing... that's right... nothing!
Her 'tricks' might have done Sarina in once...
but, she's back... and ready to do things right!"
Sarina smiles, nods, and Shane continues...
"Stay tuned folks... CWE is just getting warmed up!"
The music begins to play again, as Shane takes Sarina's arm into his,
and then exit the ring, heading up the ramp, out of the arena.